Everything I'm Sprung On This Spring
Finally living my best life.
Spring has officially sprung in Seattle. At least, I think it has. Seattle sunshine is a fickle mistress. I'm starting to come into the best version of myself and daydreaming about all the things I'll wear and do. Sipping Campari sodas on the outdoor patio of a posh Italian restaurant, taking my cat out on a leash and packing wine and cheese picnics in this basket.
Even though we here in Seattle have enjoyed precisely five days of spring thus far, I've already got some spring things I'm obsessed with.
Multi-Colored Pastel Nails
I saw this image on a Who What Wear article about jewelry and immediately wanted to go out and copy it. I initially bought five colors from L.A. Colors and I liked it, but they were more muted neon and less pastel. Perfect for summer, but not quite for spring.
A couple weeks later while browsing Walgreens, I stopped dead in my tracks as the perfect pastel yellow from Sinful Colors presented itself to me. As I examined the rest of the display, I saw that they had every pastel color I wanted to recreate this look to my liking.
Elf Active Workout Ready Makeup

Though I don't have any problem going out in daily life or working out bare faced, sometimes I enjoy looking more glowy and fresh-faced on a recreational bike ride, a hike or going to ballet class. When I wanted to wear a little makeup, I'd apply a flick of mascara, the tiniest bit of spot concealing and dab of cream blush. Even then, it's not super cool for your skin to sweat in makeup.
So I wanted to try some products that are sweatproof and made specifically for this purpose. I bought the Elf Active Workout Ready Lip & Cheek Palette and the Sweat Resistant Mascara & Brow Duo in hopes that it would achieve the fresh, healthy look I was after. I thought 20-mile post-work bike ride to a brewery with my boyfriend on a beautiful day would be the perfect opportunity to try it out. On my face, I mixed the brown and peachy tints and wore it as blush, the highlight shade as, well, highlighter. For eyes, I ran the clear gel over my brows and two light coats of the mascara on my lashes. My lashes looked super natural and my face had this lovely color and glow that actually made the rest of my complexion look more even somehow even though I wasn't wearing a lick of concealer or foundation. If possible, once we returned from the bike ride at 11pm, my face looked even better than before?
I've since worn the Elf Active palette with a touch of the Nyx Concealer in a jar on super chilled weekend days where I don't want to wear my usual "full face" which itself is pretty minimal. I want to try the Workout Ready Lip Tint next.
Twist Braids

My 14-year-old sister is the most precious thing. I'd noticed that she'd been rocking french braids a lot lately and that's a skill that seemingly ever girl learns how to do at some point but was lost on me. I can give myself a bangin' blowout, but haven't yet cracked the code of doing french braids. So when she came to stay the night last, I asked her to braid my hair, thinking it would be the perfect weekend/errands/hiking/biking/workout hairstyle. Turns out it is, but she couldn't seem to braid my hair as well as she braids her own.
So, when she left the next morning, I decided it was finally time for me to figure out how to braid my own hair. I plopped down in front of my floor length mirror with my laptop and took to YouTube. Viviannv is my actual hair idol so I went to her channel first. I found a video she made about three easy hairstyles for school. Her tutorial featured not a french braid, but a twist braid which is a lot more simple and easy to do than a french braid. At least, to me. So I've been rocking them a lot lately when my hair is too dirty to be bothered with, on the aforementioned bike ride and I'll probably be defaulting to it a lot as my boyfriend and I start hiking this season.
Dolce Vita Sandals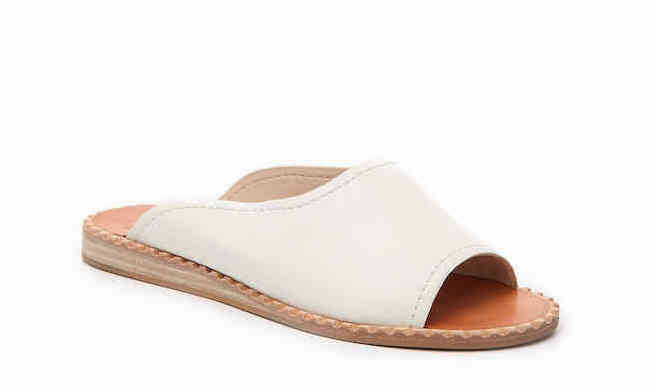 These. These Dolce Vita Poe Flat Sandals are everything. I only got them a couple weeks ago and swear I've already somehow worn them 10 times. They seriously go with so much. A t-shirt, jeans and a blazer. A polo and denim shorts. A sundress. So much! Go get yourself a pair right now.
Contigo Tumbler

Spring = iced coffee and cold brew season. The past couple years that I've been into iced coffee and cold brew, I'd buy one from Starbucks just about every day the sun was out. It was a disgusting financial habit, but a delicious one. So this year, in anticipation of my proclivity for iced coffee, I wanted to buy a nice tumbler with straw I could just mix my own Trader Joe's cold brew concentrate in during the work week.
I found this Contigo Autoclose Tumbler on Amazon and was won over by the fact that it's super commuter friendly. Once you pull the straw out, the lid closes automatically so you can take it with you in your bag or use it to shake up any powders you might be mixing into your water. I've loved it for cold brew and iced coffee at work and now I want to buy two more. A second one to keep at work specifically for water and another one to keep at home for water.
Natural Light in My Apartment

I've been living for weekend mornings where I wake up, open my blinds and drink a cup of coffee on the couch next to my cat and catching up on YouTube videos and not needing to turn the overhead lights on well into the evening. This will be my first full summer in my apartment that I love so much and I'm very excited.