The Rory Gilmore Uniform
And no, I'm not talking about her Chilton uniform.
I've probably rewatched seasons 4-7 of Gilmore Girls 20 times. I've just never been that into the first three seasons. What're'ya gonna do?
I especially love the later seasons for Rory's wardrobe. In Rory's own words in the But Not As Cute as Pushkin episode, "Well, I've upgraded the wardrobe a little bit but I'm basically still me." I'd always been into Rory's clothes, but it took rewatching the series so many times to truly appreciate the beauty in the simplicity of her outfits. And to recognize that she had a uniform: form-fitting knitwear, bootcut jeans and sneakers.
Rewatching the series this last time really made me miss the bootcut silhouette and how great they look over Converse All Stars. Is there a more classic combo for those of us that came of age in the mid-2000s?
Converse Chuck 70; Superga Cotu; Converse Jack Purcell
I've been searching for the perfect pair of bootcut jeans for about a year now. And I finally found them! The H&M Boot cut Regular Jeans look amazing, are super comfortable and are actually really flattering on. Mine are currently at the tailor getting the waist taken in to rid of an annoying back gap, which I don't fault the jeans for. But I can't wait to get them back and start styling them.
H&M jeans; GAP jeans; American Eagle jeans
I think the reason Rory's uniform resonates so much with me now is because my own uniform has evolved a lot in the past few months and has naturally veered toward a similar look. I love form-fitting tops, especially knits, straight, bootcut and wide-leg bottoms and sneakers always. So studying Rory's outfits not only gave me outfit inpiration, but it also helped me see wardrobe additions I'm considering in action.
Rory's wardrobe thrives in sweater season.
Okay, important poll: was Logan really being a butt-faced miscreant or was his prank cute?
Staring at photos of Rory is so dangerous because it always makes me want to chop my hair into a bob even though I know my hair is so thick I just look like a lampshade.
Modcloth ballet slippers sweater; J. Crew pom-pom sweater; & Other Stories cable braid sweater; Modcloth hearts sweater; J. Crew embellished sweater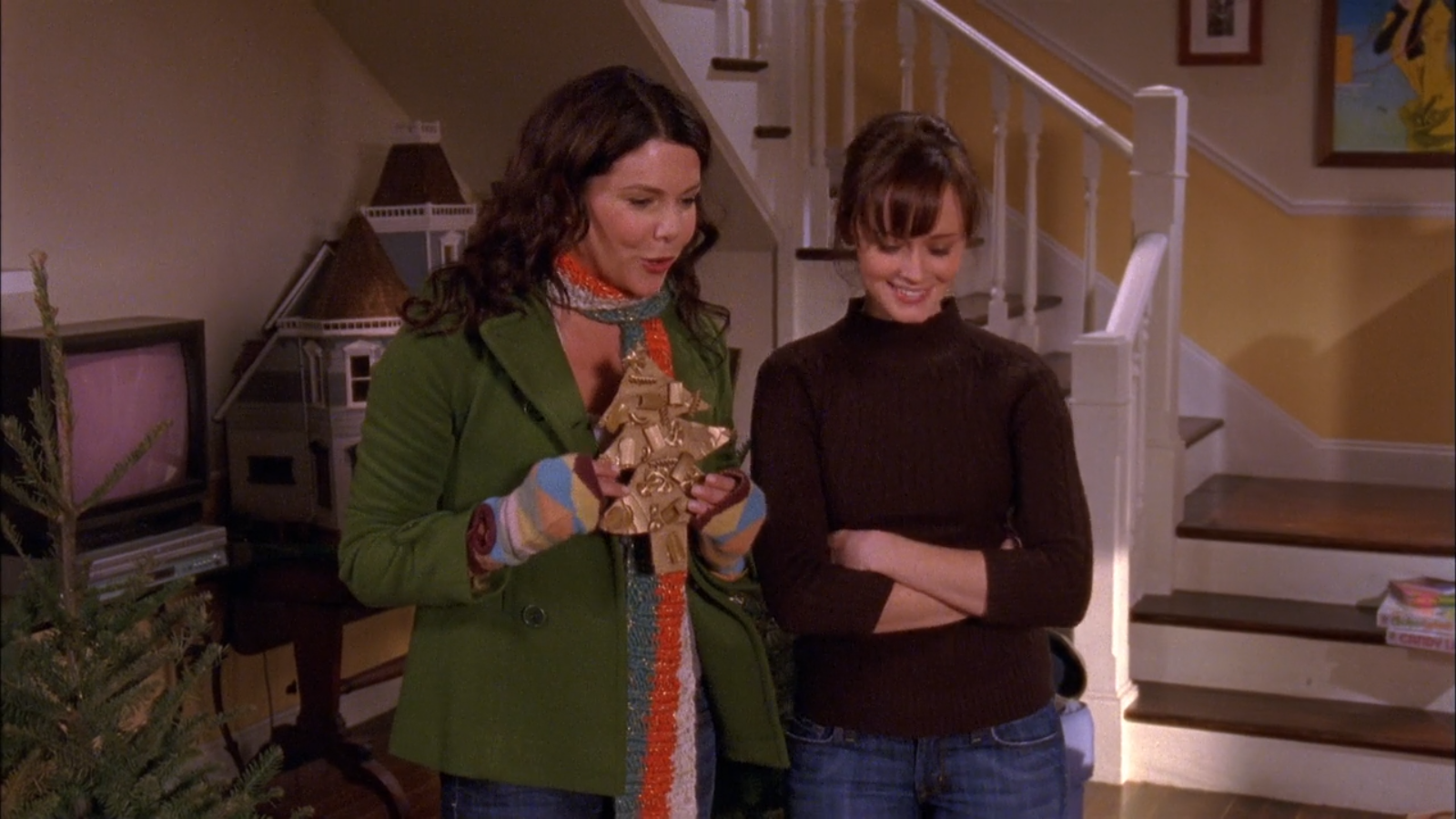 I can no longer stare directly at her bangs. I used to decide to give myself bangs every year during my rewatching of Gilmore Girls. I've finally broken that cycle of shame.
Madewell turtleneck; ASOS belted sweater; Lipsy lace-trim sweater; Modcloth turtleneck; ASOS lace top
Jeans and a sweater, how groundbreaking, right? What I was more impressed by was Rory's layering skills. She pairs a lot of unusual combinations together that look completely normal/boring yet charming and make you go "huh" in appreciation. It's totally inspired me the past few weeks to take to my own wardrobe to layer mock necks and t-shirts under v-neck sweaters and camis and tanks over turtlenecks.
If only I'd been so cool and collegiate in school.
ASOS v-neck sweater; Madewell popover sweater; ASOS ribbed crew neck; ASOS turtleneck; Uniqlo cashmere v-neck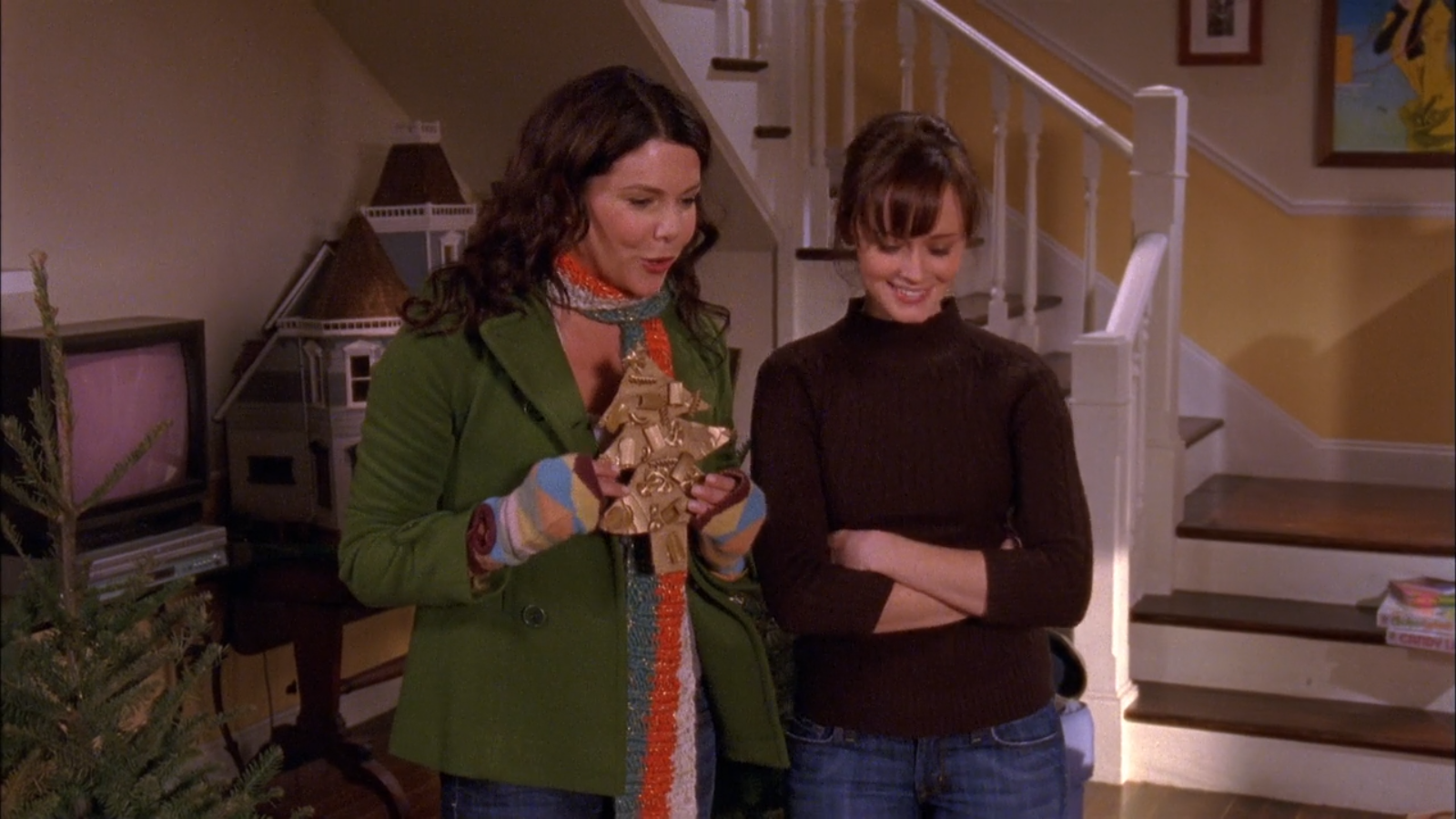 How does she wear such ugly things but make them look good?
Selected stripe v-neck; Everlane rib tee; Modcloth peplum top; Topshop turtleneck; ASOS tank
Now that I've completely gotten so into wrap tops, wrap sweaters, wrap dresses, veggie wraps — everything, I started noticing all the amazing layering Rory did with wrap tops. Doing this post also made appreciate that Rory wears a lot of her same wardrobe items multiple times which is a great realistic touch for a television character.
This is an alarming thought, but could it be possible that shrugs/shrunken cardigans will come back? And that I might be OK with it?
LOFT wrap cardigan; LOFT striped wrap top; Modcloth sleeveless top; Modcloth lace cardigan; Banana Republic cami
I feel like Lorelai's style often gets talked and written about a lot. And when people write about Rory's outfits, they usually only feature really standout looks like her Chilton uniform (and the Gogo Yubari costume, which was amazing), the danceathon dress, the Donna Reed dress and just her general collegiate vibe. But I wanted to make this post because I couldn't find anything that took a more detailed look at her day-to-day look, which I just think is aces ;).
Her look is so cool because it perfectly borders girly and boyish, basic and glam, normcore and fashion.
Also, putting this post together made me really miss pouring over and dog-earring my delia's catalogs. R.I.P.