Back to School Basics on a Budget
I'm not a basic bitch. I'm basic, bitch. Wait, what?
My youngest sister is going into high school this week. I'm lowkey scared for her, but in all honesty, Andrea's got it figured out way beyond where I was at the same age. Growing up without a lot of money, I was always self-concsious that everyone else was wearing Limited Too, Abercrombie and Hollister, while I was wearing hand-me-downs and what I could find at thrift stores, Ross and clearance racks.
Now, I always make sure I give my sister the first pick of any clothes or accessories I'm getting rid of and buy her clothes or take her shopping at stores she has less access to in the suburbs when I can.
I recently took her to University Village to go back to school shopping. I knew I for sure wanted to take her to Brandy Melville because it's definitely within a teenager's budget (my sister saved up money all summer for back to school shopping) but they also just make really great basics that aren't just short-lived trend pieces.
Even in my own wardrobe, I try to live by the philosophy of LESS. So my thinking with Andrea's wardrobe is if she has really great basics she can rely in, she can wear them again and again in different ways without worrying about being an obvious outfit repeater.
I remember sitting behing a girl in the 6th grade who seemed like one of those girls whose family had a lot of money to buy her clothes, but I noticed that she wore the same pair of jeans every day. I could tell because they had a very distinctive pink embroidery on the back pockets.
I totally wear the same jeans most of the week now, but and like buying really classic jeans without any distinctive details for that reason.
So here are some of my favorite basics whether you're headed back to high school, college or just want more casual classics.
If you're in high school and exposing your shoulders is against the dress code for some reason, you can wear this under a cardigan or zip hoodie and that would be v cute. Brandy Melville James Tank ($12).
When you're waking up at 5 or 6am for school, comfort is key. Brandy Melville The Zane Bralette ($8) is cute under white tees or tanks.
Is there anything chicer and cooler than a white tee and light wash jeans? Brandy Melville Hailie Top ($16).
See above. Brandy Melville Jamie Top ($16).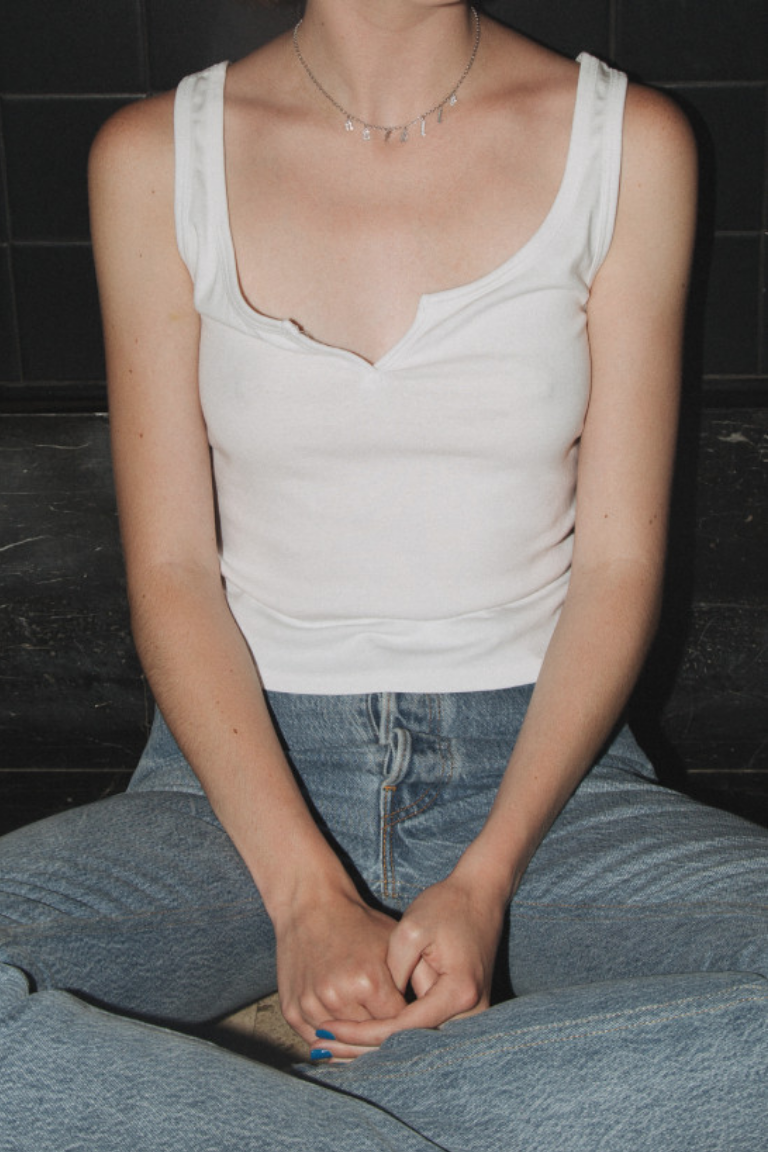 These notch tanks are so 90s. Think Rachel from Friends or Sarah Michelle Gellar as Buffy. Brandy Melville Trisha Tank ($14).
This might be the perfect white mini dress. Wear it with a cardigan and combat boots. Brandy Melville Karla Dress ($38).
Speaking of cardigans, you could wear this very cardi with the dress above. You could also wear it buttoned up on its own as a top or style it opened or closed over a t-shirt. Brandy Melville Shannon Cashmere Sweater ($50).
This with straight leg jeans with white or tan sneakers and a scrunchie? It's over with. Brandy Melville Erica Sweatshirt ($28).
This is GENIUS. Perfect if your school doesn't let you carry your backpack with you from class to class and for going to concerts and such. Brandy Melville Leopard Print Keychain Wallet ($8).
I still love using academic planner because my brain still works on the academic calendar. There's no need for fancy Moleskine planners or ones with tons of frills like the bando ones. Keep it simple. Mead Planner ($11.99).
An icon. JanSport Right Pack ($60)
You probably saw this coming. Hands down my favorite, go-to shoe. Superga Cotu ($65).